Who Are We?
Prepare for a degree with
Kaplan International Pathways
Kaplan Pathways in Australia partner with three of Australia's top universities and one of New Zealand's top universities. Take your first step towards undergraduate studies and academic success at university in Australia or New Zealand.
Our pathways colleges in Australia and New Zealand are part of a global network with over 10 years of experience in delivering pathway programs to international students.
Students who are interested in studying with Kaplan in Australia can expect to choose between our foundation and university level programs, both of which are designed to provide a seamless transition into the first or second year of undergraduate studies at our partner universities.
Kaplan provides academic counseling to students to ensure their chosen pathway satisfies their academic needs and aspirations. Our colleges offer students additional academic and pastoral support when compared with university. Smaller class sizes allow our academics to provide each student the support they need to succeed.
We are as committed to helping you achieve your educational and career goals. Your success is how we measure our own.
As a part of the University population, our students have access to many of the world-class university facilities. Our programs are stream-based and degree focused, with students able to study the university curriculum in a supportive yet academically challenging environment, so that upon successful completion students satisfy the entry requirements for their chosen degree. The universities govern curriculum and assessment ensuring the highest academic quality. Progression is guaranteed providing the student meets the required academic standard/ completes their pathway program successfully.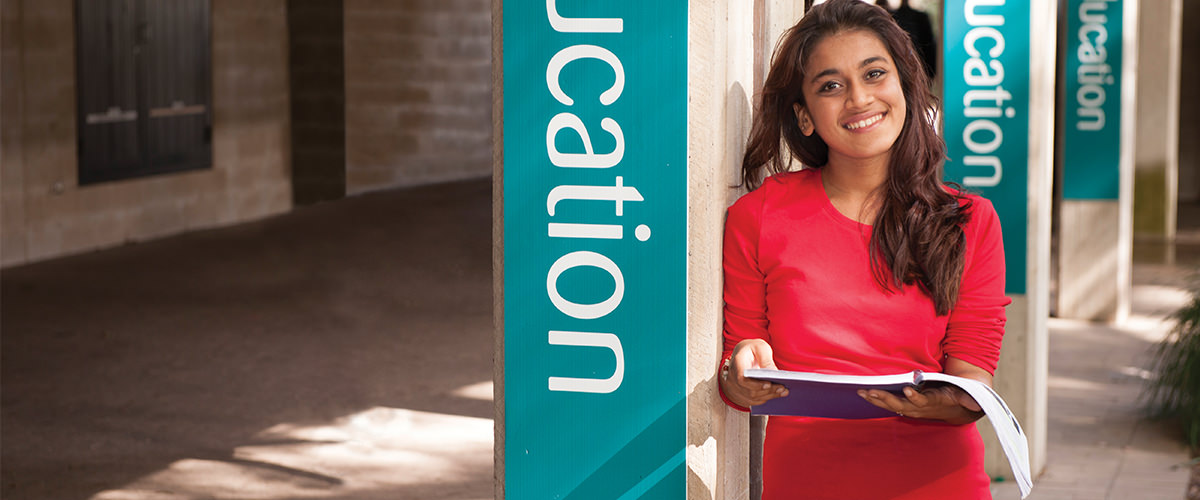 Not sure if you have secured the marks needed to go to University?
Read on to find out more about how we can help you achieve your academic and career goals through our alternative entry pathways to your selected undergraduate program at one of our partner universities.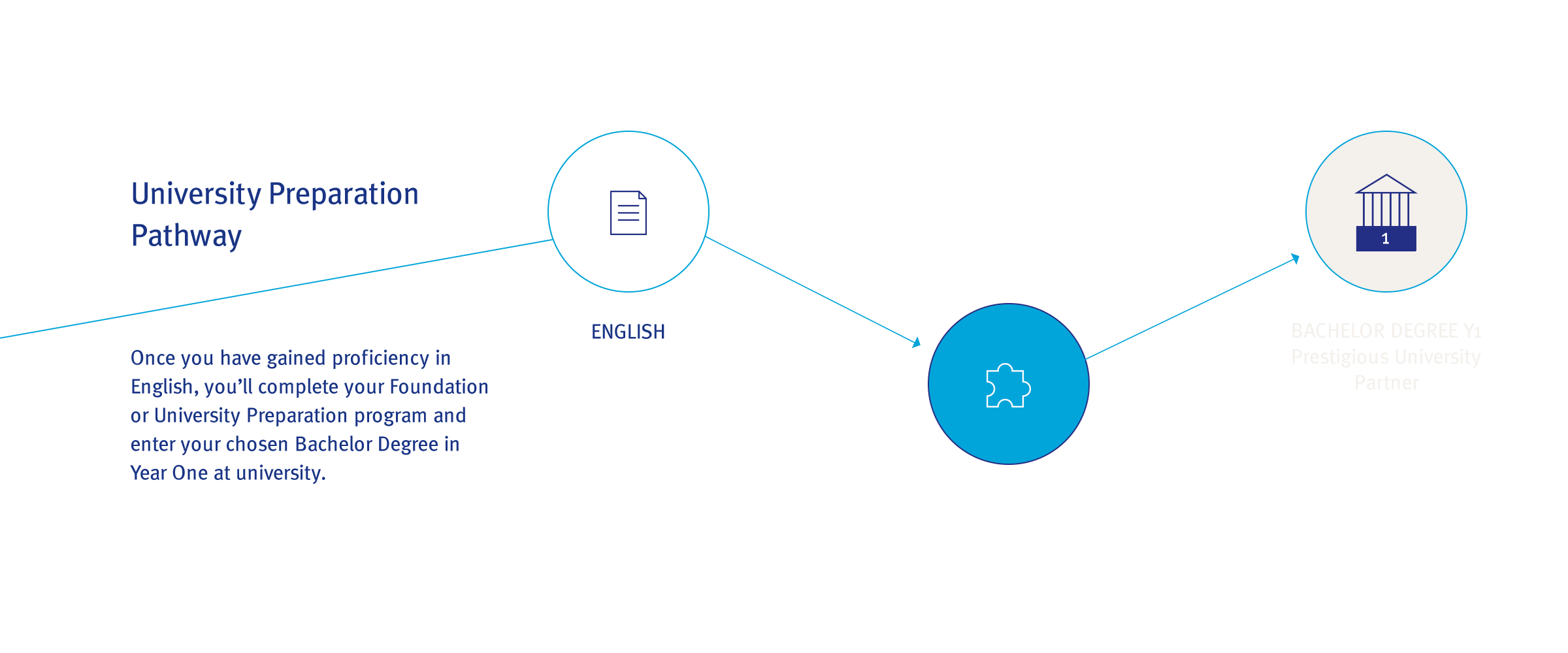 University Preparation Pathway
Once you have gained proficiency in English, you'll complete your Foundation or University Preparation program and enter your chosen Bachelor Degree in Year One at university.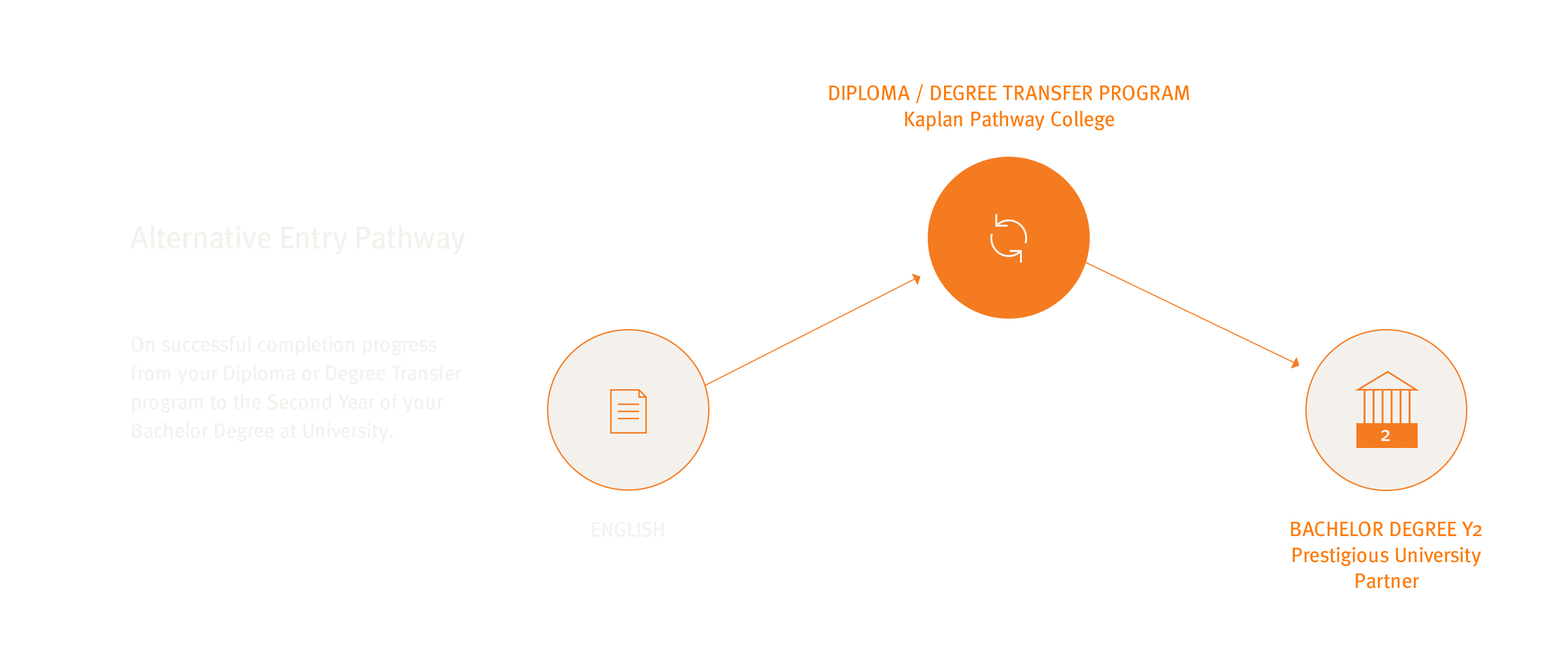 Alternative Entry Pathway
On successful completion progress from your Diploma or Degree Transfer program to the Second Year of your Bachelor Degree at University.
Benefit from a global network with over 10 years
experience providing pathways to university.
Our Pathways business is part of Kaplan International Pathways.
Kaplan International Pathways works in partnership with a selection of Australian, UK and US universities to provide individual support and academic guidance through degree preparation and alternative entry programs to international students.
In 2014, Kaplan International Pathways helped more than 12,000 international students from 108 countries gain entry to undergraduate and graduate degrees at more than 40 prestigious universities around the world.
Your Options
Kaplan offers a range of pre-university programs through our pathways colleges here in Australia as well as New Zealand in partnership with our prestigious university partners.